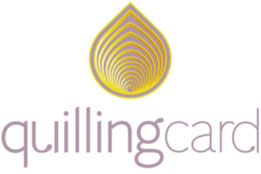 Every card is a labor of love, each Quilled card takes one hour to create by hand.
Quilling is the art of rolled, shaped, and glued paper that results in creating a unified, decorative design has been practiced for centuries. The name quilling is thought to come from the origin of the art; birds' feathers, or quills, were used to coil the strips of paper around. Historians believe that it was first seen in ancient Egypt, where certain filigree-type art inspired more modern quilling years later.
Quilling has persevered through time, most notably making its mark throughout the Western world. During the Renaissance, nuns and monks would roll gold-gilded paper trimmed from books to adorn religious objects, mimicking costly gold filigree. In later years, quilling continued to be practiced throughout Europe as it caught on as a leisurely activity for affluent women. They would adorn objects such as picture frames, baskets, and jewelry boxes. Quilling eventually found its way to America with the Pilgrims.

Today, Quilling Card has become the premiere source of preserving and sharing this beautiful art form.
Quilling Card is proud to be a certified Fair Trade Federation Member.
Every design in the collection is handcrafted by a member of our dedicated team. Many of these young artists are young adults from rural areas surrounding Ho Chi Minh City in Vietnam. Securing a sustainable career is difficult for those who have limited access to education. Quilling Card provides the opportunity for these individuals to learn a new skill, develop a flourishing career, and receive exceptional wages and benefits. Your purchase aids in providing these job opportunities and supporting their continued efforts.
This vendor is socially conscious. They practice: